What's New
Upcoming GIS in Transportation Webcast
Making Right-of-Way (ROW) Accessible

Please join the Federal Highway Administration (FHWA) for its 23rd installment in a quarterly series of webcasts highlighting applications of geospatial technologies in transportation.

The webcast will take place on Tuesday, September 9th from 2-3 PM ET.

Nina Safavi, Survey & GIS Project Manager, and Ryan Cloutier, Plans & Titles Chief in the ROW Section of the Vermont Agency of Transportation (VTrans), will discuss and give a live demonstration of their new web-based GIS ROW catalog. Until recently, ROW information at VTrans was stored in a variety of files and systems which were independent of each other, making a search for information about any given site difficult and time-consuming.

To access the webcast, please see the information listed below:

Audio: 1-877-336-1274 (call-in); 7838594# (passcode)
Webroom link: http://fhwa.adobeconnect.com/gistransportation

The intended audiences for this webcast series are planners and GIS practitioners from State Departments of Transportation, Metropolitan Planning Organizations, FHWA Division Offices, and State and Federal resource agencies.

If you would like highlight one of your agency's geospatial applications in an upcoming webcast, please contact Paige Colton (paige.colton@dot.gov or 617-494-2361). Information on previous webcasts can be found here on FHWA's GIS in Transportation website.
GIS Spring Webcast
Now Online

A summary of the spring GIS in Transportation webcast is now available here. Laurie Goudy, Mike Sheffer, and Erin Lesh of the Maryland State Highway Administration (MDSHA) discuss the agency's Enterprise Geographic Information System (eGIS), a geospatial data portal that allows internal agency staff to quickly and easily access an array of geospatial data and mapping applications for data-driven analysis and decision support.


eGIS widgets


GIS Spring Newsletter
Now Online

The spring GIS in Transportation Newsletter is now available here. This newsletter features an article by Geno Koehler and Jim Conlon of Illinois DOT, who discuss the DOT's new over-dimension and overweight permitting system, called the Illinois Transportation Automated Permit (ITAP). In addition, Gary Baker of the U.S. DOT Volpe Center considers how the transportation field can realize the full potential of GIS technologies.


ITAP's Navigation System


The Interoperability of Computer-Aided Design and Geographic Information Systems in Transportation
Report now available

As transportation agencies increasingly work toward streamlining their business processes, they face a variety of challenges in seeking to improve the interoperability of GIS and CAD. The Federal Highway Administration (FHWA) sponsored a research effort to explore the status of GIS and CAD integration and interoperability in the transportation field, and the report is now available here.

The report discusses how the following agencies use GIS and CAD together, how they use GIS-CAD interoperability to meet their needs, and the challenges, lessons learned, and benefits encountered by these agencies while implementing interoperable systems and striving toward full integration. The agencies include:



Kentucky Transportation Cabinet


Anne Arundel County, Maryland


Iowa Department of Transportation


Santa Clara Valley Transportation Authority


New Mexico Department of Transportation


Infrastructure life-cycle


Assessment of the GIS Needs and Obstacles in Traffic Safety
Report available

The Federal Highway Administration has recently released a report, available here, that explores the use of GIS for safety decision making at the state and local level, and considers opportunities for FHWA to use this technology to improve highway safety. The report found that while states are not generally using the full capabilities of modern GIS software to support advanced safety data analysis, most States are looking forward to enhancing their GIS and making use of advanced techniques in the future. States are aware of the MAP-21 requirements for statewide basemaps and a linear reference system that includes all public roadways, but cite administrative and technical barriers to success. The report includes recommendations for FWHA to help agencies overcome these challenges including tools, marketing and training, and research to fill gaps in knowledge.
Uses of Cloud Technologies for Geospatial Applications
Report now available

Great potential exists in using cloud technologies to support GIS applications, but their use is still evolving. To explore this in more depth, the Federal Highway Administration sponsored a research effort to investigate transportation agencies' GIS and cloud computing initiatives. The report summarizing this research is now available here.

The report presents background information, a series of case studies, and a summary of conclusions based on the following initiatives:



Idaho Transportation Department's IPLAN


Maryland Department of Transportation's Miss Utility Tracking System, interactive mobile applications, iMap Application templates, and Enterprise GIS system


Ohio Department of Transportation and Mid-Ohio Regional Planning Commission's Location Based Response System programs


Utah Department of Transportation's UPlan


Washtenaw Area Transportation Study's (WATS) long-range transportation plan deficiency maps and Mi Community Remarks application, and interagency data sharing initiative


WATS deficiency map


FHWA Geospatial Data Collaboration (GDC)
State/Local GIS Practices Database
Visit the database to learn more about GIS applications and practices in transportation being currently implemented across the nation.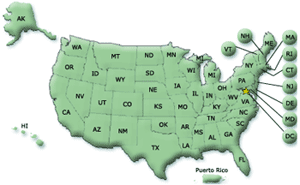 Quick Links
Archives
Connect