What's New
Upcoming GIS in Transportation Webcast
KDOT's WICHway: A Traffic Management Website

Please join the Federal Highway Administration (FHWA) for its 24th installment in a quarterly series of webcasts highlighting applications of geospatial technologies in transportation.

The webcast will take place on Wednesday, February 4th from 3-4 PM ET.

Tom Hein and Mary Beth Pfrang of the Kansas Department of Transportation (KDOT), and Brian R. Sovik of Data Transfer Solutions, LLC will discuss and give a live demonstration of their traffic management website, WICHway. WICHway provides the latest traffic information on Wichita's highways. It is part of the statewide Intelligent Transportation System (ITS) designed to help travelers, commuters, commercial transport and other drivers make informed decisions as they travel Kansas highways. With a redesign of the website, KDOT project sponsors wanted to continue the current functionality of the website but looked to incorporate innovative ideas that would enhance the delivery of information – especially to mobile users. With a short timeline, the new WICHway.org website was created and launched, and is being used successfully on desktops, laptops, tablets and smartphones.

To access the webcast, please see the information listed below:

Audio: 1-877-336-1274 (call-in); 7838594# (passcode)
Webroom link: http://fhwa.adobeconnect.com/gistransportation

The intended audiences for this webcast series are planners and GIS practitioners from State Departments of Transportation, Metropolitan Planning Organizations, FHWA Division Offices, and State and Federal resource agencies.

If you would like highlight one of your agency's geospatial applications in an upcoming webcast, please contact Paige Colton (paige.colton@dot.gov or 617-494-2361). Information on previous webcasts can be found here on FHWA's GIS in Transportation website.


WICHway screenshot


GIS January Newsletter
Now Online

The January GIS in Transportation Newsletter is now available here. This newsletter features an article by Sandra Tosca, P.E., of the Pennsylvania DOT, who describes the agency's GIS-based Snow Route Planning Application. In addition, Drew Davis of Larimer County, CO, and Will Allender of New Century Software, discuss the process and implications of developing a public-facing website in under 5 hours when flooding hit the region in 2013.


Snow Route Planning App


Reports on Geospatial Data-Sharing
Now available

Three reports explore how State Departments of Transportation (DOTs) and other transportation agencies are developing and using geospatial tools to support increased collaboration and improved information-sharing. These objectives are associated with the Federal Highway Administration's (FHWA) Geospatial Data Collaboration (GDC) initiative, which encourages State DOTs and others to use geospatial tools to streamline and improve transportation decision-making. The reports are now available online.


MD iMap


Assessment of the GIS Needs and Obstacles in Traffic Safety
Report available

The Federal Highway Administration has recently released a report, available here, that explores the use of GIS for safety decision making at the state and local level, and considers opportunities for FHWA to use this technology to improve highway safety. The report found that while states are not generally using the full capabilities of modern GIS software to support advanced safety data analysis, most States are looking forward to enhancing their GIS and making use of advanced techniques in the future. States are aware of the MAP-21 requirements for statewide basemaps and a linear reference system that includes all public roadways, but cite administrative and technical barriers to success. The report includes recommendations for FWHA to help agencies overcome these challenges including tools, marketing and training, and research to fill gaps in knowledge.
FHWA Geospatial Data Collaboration (GDC)
State/Local GIS Practices Database
Visit the database to learn more about GIS applications and practices in transportation being currently implemented across the nation.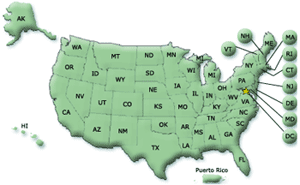 Quick Links
Archives
Connect